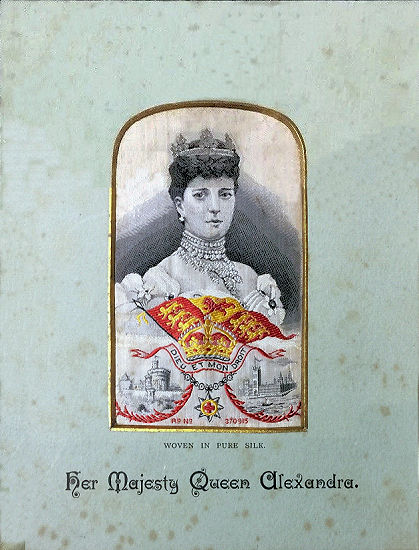 ---
Her Majesty QUEEN ALEXANDRA
(crown & medal)
---
Reference Number:-
Godden Number:-
Sprake Number:-
go 56
not recorded
Sprake did not record any Grants
Words:

Woven on Silk:-


RD NO 370915




Printed at bottom of card:-

WOVEN IN PURE SILK

| | | |
| --- | --- | --- |
| | Her Majesty Queen Alexandra. | |
| | | |

Size:

Card-mount:

cm deep by cm wide

silk:
cm high by cm wide

Comments:

by Geoffrey Godden:

Godden does not record this version of the Queen Alexandra portrait.

Other comments:
The "usual" version of the Queen Alexandra portrait has a shield with lion and unicorn emblem below the central Royal Standard flag. In the version above, this emblem is replaced by a crown, with a medal hanging below.

In the portrait above, woven onto the silk is " RD. No. 370915 ". This design however was not registered, and this Registration Number belongs to the go52 version.

This silk portrait is a pair with His Majesty KING EDWARD VII [go180 on this site].
---
---
This page was created on 2 February 2015
image replaced with better quality image 4 January 2020 © Peter Daws
Web site address: www.stevengraph-silks.com