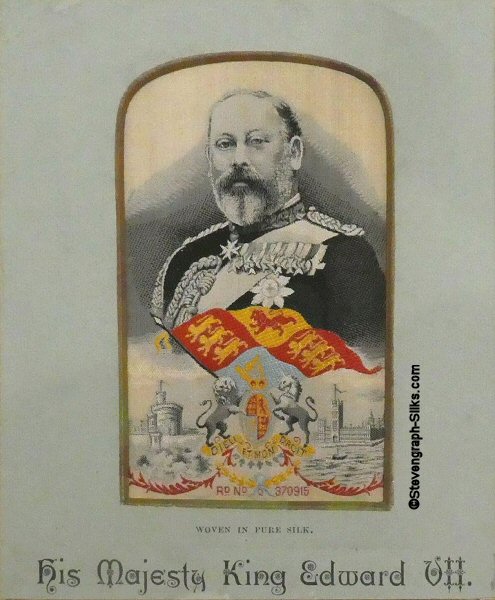 ---
His Majesty KING EDWARD VII
---
Reference Number:-
Godden Number:-
Sprake Number:-
go 176
not recorded
Sprake did not record any Grants
Words:

Woven on Silk:-


RD NO Q 370915

Printed at bottom of card:-

WOVEN IN PURE SILK.

His Majesty King Edward VII

Size:

Card-mount:

cm deep by cm wide

silk:
11.2cm high by 6.4cm wide

Comments:

by Geoffrey Godden:

Godden does not record this version with the incorrect Queen Alexandra registration number, 370915, instead of the correct number 370718.

In the record of the correct portrait, recorded on this site was go168, Godden notes there are two versions of Edward VII, of differing sizes. The portrait above is equivalent to the smaller sized silk, recorded as go 164}.

Other comments:
This same design also occurs as a postcard, again with the erroneous registration number 370915, and is recorded on this site as gc 4].


---
---